Last year, I reviewed YA LGBT book The Fox's Mask, the first in the Kitsune Trilogy, by Anna Frost. I really enjoyed it, and was interested in seeing how the story would progress.
I received a copy of the second book, The Fox's Quest, and was really excited to jump in. I will do my best to talk about the book without giving away any spoilers! If you haven't read the first book though, I recommend doing so before reading this review, because I have to talk about some things that happened there.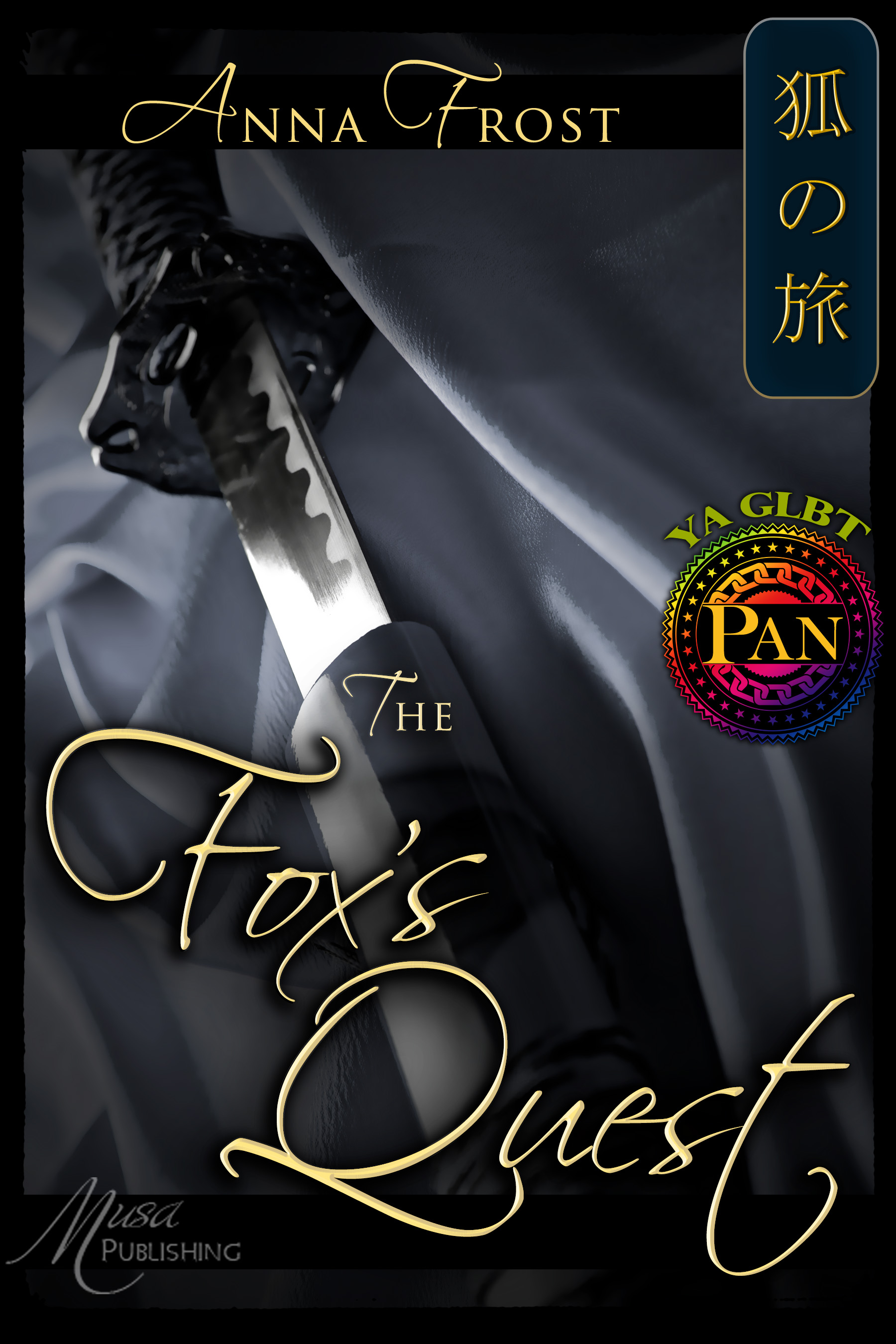 Okay, did you read the first book?
Did you?
…
Alright, I warned you!
The book picks up not far from where the first book left off. Sanae is dead, but for some reason her soul has stayed on, following around Akakiba and Yuki in her fox form, and helping them on their journey. Akakiba is very much suspicious of the spirit and doesn't acknowledge who she claims to be, though he still follows her advice, which I find adorable in his stubborn willingness. The dragon Drac is also around, and it is immediately obvious that there is discontent because of the bond between Yuki and his dragon companion.
Nuuuu boys. /tears
Anyways, as the story goes on, we learn more about what is causing the magic to fade from the land, something that is of course detrimental to the Fox Clan and any other spiritual beings in the world. The quest to find the source leads to lots of interesting fights, new characters, and new twists in the story – it was really enjoyable because there were new layers being discovered throughout the book that showed that the plot was much deeper than "let's kill the Fox Clan."
What I liked:
You know, this time, I didn't have any twitches to the individual voices of the characters. I thought they were all well done. Part of this might be that I am familiar with the characters now, so I am more comfortable with their voices.
I felt like Mamoru had more time within the story, and I like that this character had become such a major plot point.
Sanae torturing shinobi was pretty hilarious and amazing.
Akakiba did stay true to the gender he identified with – male. Anna had commented on my previous review saying that this would be the case, but I want to say that I really appreciated the dialogue between Yuki and Akakiba on the topic when it was broached. *applauds Anna*
Also the boys were just so cute when they finally talked things out *flails*
There were a lot of great fight scenes!
The story ends with a lot to still be discovered!
What I didn't like:
This is totally my own thing, and I don't think it's something that Anna did wrong at all. But I really wish that the boys had resolved things sooner rather than later. BUT that leaves room for more in the third book, right? [RIGHT?!]
The book is already out, so make sure you get your hands on it! I can't wait for the third one to come out. 🙂
Tagged: anna frost, book review, kitsune trilogy, lgbt, young adult